Archives mensuelles : mai 2016
I have just attended to a meeting regarding one project of my running program. This kind of meeting is called « Project Meeting ». Initiated by the project manager, it aims to discuss with the program manager and other selected stakeholders some important facts about the projects before the official Project Review. It aims to deal with important issues and collect options from important sponsors beforehand.
Really often the project team uses those meetings to announce:
a budget exceeding,
a delay
What I realize today is that in most of the meeting I have participated to, the project team forgive to bring important information that are keys to their counterparts: a plan.
Explaining that budget is going wild, planning is dead and gold-plated deliverables are everywhere is in a sense not really interesting to take decision about the project. What the project team should focus on are its strategy to take the project on track according to the available options:
Budget should remain unchanged
Planning should remain unchanged
Scope should remain unchanged
According to those 3 different strategy the team should provide scenarii to their stakeholders in order to have clear direction.
What is the plan to keep the budget unchanged while our scope is booming or delay is out of control?
What are the consequences if we keep the original planning (i.e. deliverables dates) regarding to the scope (descoping) or budget?
When experiencing troubles on projects, project teams should of course understand the reasons and act to stop the deviation but also work on alternative and scenarii about the future of its project. If not, the decision taken during a project review could be somehow definitive.
Do you see other things to focus on in that case?
thanks for reading.
Mindmap your life!
Do you know mindmapping? That wonderful technique is a way to keep organize your thoughts whatever you are doing.
Trying ot innovate? Mindmap your thinking to find the right problem.
Trying to solve this problem? Mindmap it to make a clear statement of the situationTrying to find agood technical solution? Mindmap your opportunities to rank them
etc… etc…
My last one? Trying to find a new job? Mindmap your career to find your strength and weaknesses and define a good strategy (this is really a wonderful tool to realize how many things you can do 😉 )
Mindmapping is one of the most powerful tool to set up and visually organize information and thoughts
What is mindampping?
According to Wikipedia
A mind map is a diagram used to visually organize information. A mind map is often created around a single concept, drawn as an image in the center of a blank page, to which associated representations of ideas such as images, words and parts of words are added. Major ideas are connected directly to the central concept, and other ideas branch out from those.
Mindmapping will allow to organise visually and with a clear hierarchy all your ideas.
How to mindamp?
First be sure you have enough space on a blank sheet of paper. grab at least 4 makers of different colours.
One can summarize mindmapping by those steps:
Write down the topic in the center of your sheet
From the center, write keywords that come to your mind around your central topic,
Connect keywords to your central topic with lines. if keywords have a connections together, connect it also but with a different kind of line (dotted as an example)
Use different colours either for different branches or different concepts of your maps
Use the radial construction to show a clear and good hierarchy
Shape your map in order to make the most powerful concept more visible.
Start with something easy to handle. I did my first mindmap with « dog » as the central topic.
Examples
Here are some examples I grab on the net.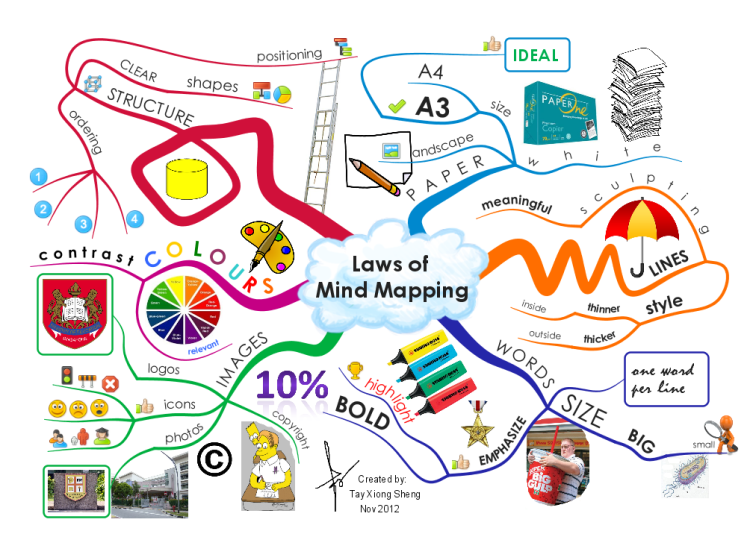 You don't need to be an expert in drawing. Those maps are much more beautiful than the most beautiful one I have ever made or seen.
Tools
Lots of tools are available on the internet to draw a mindmap.
Xmind, my favorite

FreeMind, a very good tool too
Mindmeister, often recommanded I personnaly have never used it
MindManager
A quick search on the net will give you even more possibilities.
Thanks for reading.